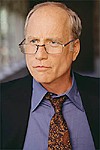 Photo © TVGuide
The Education of Max Bickford (CANCELLED)
Another one bites the dust ...



Although Richard Dreyfuss has often talked tv down, he is taking on the role of an American Studies Professor in this new CBS drama. Considering all the mindless TV that's currently on, it's a welcomed change. Now, hopefully, TV will become, if only slightly, good watching, thanks to Mr. Dreyfuss lending his superior talent to the small screen!